The Game
Velocity Rage is where action-packed combat racing meets CCG, a unique combination of the two where your "Deck" is the car and the "Cards" are your weapons. In this new take on a classic genre, you will face real-time tactical decisions while competing with other racers for new weapons, rewards, and prestige in beautiful postmodern racing environments. The game is playable in single, local split-screen, and online modes.
Key features
Deriving from traditional CCGs, one of the game core features is Tactical Ability Deck: an augmentation loadout that is determined by the player before the race and majorly affects the performance and behavior of the vehicle during the race (no pickups!). In this ever-changing gameplay dynamic, use predefined, or build your own deck from a pool of abilities such as weapons, protectors, disruptors, enhancers and more. Manage and use your Rage correctly to activate the abilities during the race and skillfully choose your deck - there are more than a few ways to win.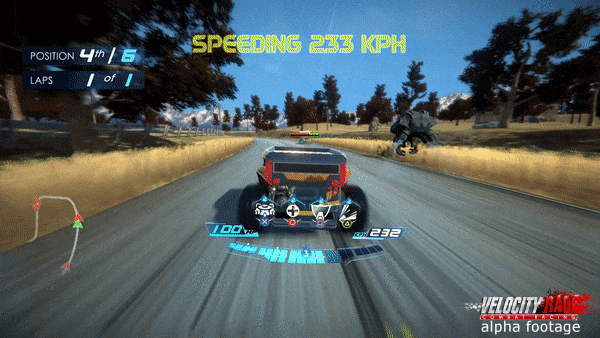 You are not only trying to get the best lap time, you are dodging missiles, absorbing damage and reaching insane velocity while ramming other competitors into walls to form spectacular crashes.
As a direct successor to the genre, we proud to embody the unique gameplay of a combat racing game where being fast is not the only way to win the race!
Local and online multiplayer
Demolish your opponents both locally and online. The game supports up to a four-player local split screen, and various online, standard and unique, game modes are being developed.
Fun and intuitive
Controls
Velocity Rage is a physical racing game with arcade-like features. We spend great effort on fine-tuning the vehicle control, physical behavior and overall feel to deliver a realistic driving experience while maximizing the fun factor. The controls, collisions, weapons, improvements, and components all designed to complement the immersive racing experience.
We strongly believe in well-polished products, and Velocity Rage is not an exception! With a great care for details while maintaining high performance we apply both popular techniques and self-developed methods to ensure an uncompromising visual quality.
AdvanceD development tools
As a guiding rule, the dev team took on themselves a personal goal of creating dedicate stand-alone (and very cool!) tools and components to keep with the high standard of the project and to ensure the fast pace of the development. Among the already implemented and in development components are Optimal race-line calculation on any track, Competitive and scalable AI, improved physical collisions, and deformation of breakable objects. More on this in the dev blog.